No helmet no bike? Wah wah wah
Published Tuesday, March 07, 2006 by Rosie Fantail |
E-mail this post

---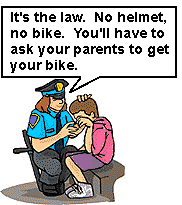 And a big whassup to my homie Jonathon, who directed me to perhaps the finest Web Page on the Information Super-Highway:
No Helmet, No Bike
, aka "Neuroscience for Kids". Truly it is a riveting read. My favourite part was:
"The brain is a delicate and fragile organ. It contains all of your memories and your ability to form new ones. It is everything you were and everything you will be."
We all know how these existential issues prey on the delicate and fragile minds of hipsters, especially when they're shitfaced drunk or coking out of their skulls. ("It's like, in
I Heart Huckabee's
...", "Omigod, Jason Schwartzman is so fucking hot...", "Yeah, I'd totally tell him I'm into Cum-ooh!")
But the comic art that comes with this website is genius. Could that kid be any more of a hipster, with his pink 80s hoodie and his
vintage dove-grey hi-tops
? This makes me think of starting an online comic here. It would be called
Wah Wah Wah - The Helmetless Adventures of Corey
. Please feel free to suggest possible plotlines in the comments.